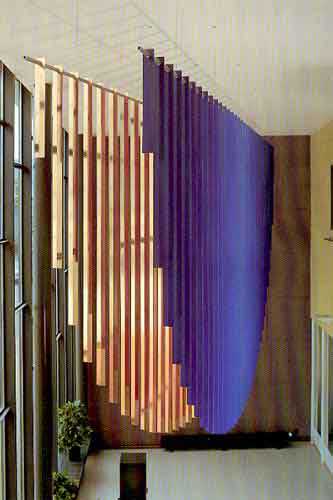 Sunbow

The Porvoo Administration Building, copper and aluminum, partly painted.
Sunbow was commissioned by the Government.
It hangs in the lobby of the tax office at the Administrative Building. The work traverses the space diagonally the installation - boards forming the shape of a bow is viewed from below, from different angles. When compared to the reliefs at the Kerava Church, it can be said that whereas Resurrection concentrates on resignation, Sunbow embodies the dynamics of being reborn ."I wished to create a sacral work of art for a site where visitors are worn down by practical, material worries. When glancing up, one can innocently experience something greater; an aesthetic, liberating sensation." The work sums up everything that came before it; it strives towards an uncompromising, absolute solution. The work also captures a sentimental interest in and sympathy towards Native American cultures. Thus the title. The warm colors of the sun, symbols of life and fertility, the bow as part of the circular sun.