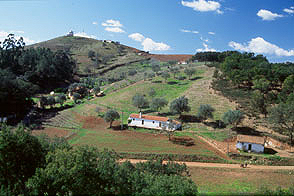 Her recidence in Portugal
Philosophy and religion
Korhonen is philosophical in many ways. She is fascinated by order and insight rather than chaos and ecstasy. However, she says that reading and theories as such are not interesting
unIess they help understand the secret of life and stimulate the various levels of experience. She strongly believes that differentiating between subjective experience and objective knowledge is harmfuI and not at all interesting. Religion should also mean perceiving the Unity; broadening and liberating. In her art, Auli Korhonen concentrates on exploring the depths of her own mind and, through her extremely subjective inner experiences, reaches a confusingly universal and philosophical level. When going through that gate into space, the viewer feels a light touch of human hair.